It has been reported that controversial journalist, Kemi Olunyolo, has taken to her Instagram page celebrate her brother whom she regarded as a celebrity chef, while saying Chioma's chef title is fake.

Kemi Olunloyo's brother Shola Olunloyo, who is based in the United States, is an engineer, but recently got certification as a celebrity chef in the state of Philadelphia. She wrote;

"My brother has not visited Nigeria since he left Jan 1st 1985. He went to America to join me to study engineering and later found his niche and became a Celebrity Chef in Philadelphia, USA just like I studied Pharmacy then niched later in Journalism and Public Relations."
"One year he asked my mom to come over and use a whole weekend to teach him how to cook all the Nigerian foods we ate as kids. It was me and Shola that always watched my mom cooking. I'm a gourmet cook, Shola is a CHEF. This is why I asked Chioma @thechefchi not to settle for fake titles."
"I am not a trained chef, I can cook anything but to do it professionally, get the training. Anyone who wants to hear my brothers interview on Nigerian ceremonial foods #Jollofrice and company.. should go to the page www.splendidtable.org or visit @splendidtable"
Recall that Kemi Olunloyo has been out for the couple filled with 'assurance' and she keeps slamming them back and forth on a
daily basis. Earlier this year, she leaked an alleged secret chat between Davido's hypeman, Spesh and an unknown person saying
Chioma goes to have sex with multiple men in London.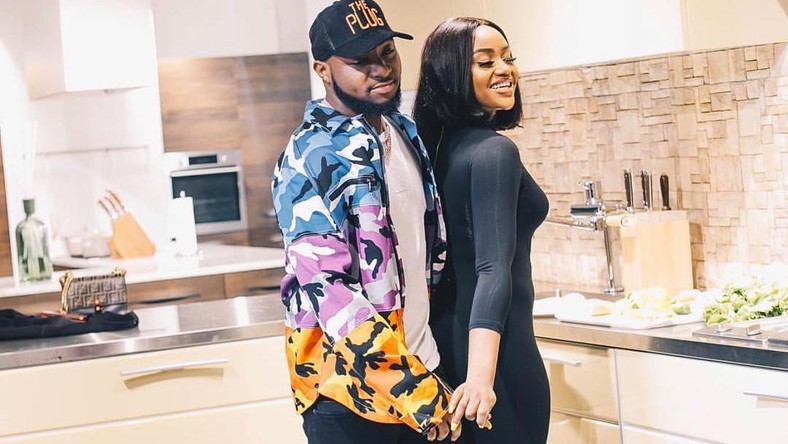 Adding that her cousin and signee under davido's DMW, perruzi, is also aware of the movements by the chef. She boldly took to
her Twitter handle, to state that Chioma dumped Davido last year and has been found sleeping around. As expected, fans of the
celebrity took to Twitter to debunked her claims and she blasted them saying:
"Davido's fans are obviously Brainwashed. After I exposed his crew member's DM calling Chioma a slut, now he's asked them to
use the fake chat app to make me a #fakenews purveyor. I know all apps online. Remember 30 yrs on SM is no joke 1989."
She went on to say that "when the year started I told you I will TROLL DAVIDO till December 31st 2019. UNLESS… He
apologizes in person AND PAYS Child Support $144k N52M 2013 to present after taking my new DNA test on US SOIL. UNTIL
THEN…I will continue to expose his left, right and center." When an obvious fan of Davido and Chioma trolled the 'grandma',
she blasted her immediately.
The fan said:
"Social media has become your playground, but imagine your grand daughter being dragged into a fight she doesn't even
know the root or is not capable enough to stand up to." In response, Kemi Olunloyo said: "Bitch fan she knows everything.
Even did a video requesting Davido to come take a DNA TEST. She is very capable enough to stand to thru me. Davido is not
capable or man enough to face me and therefore says he doesn't know me. Get your facts right."
She went ahead to allege that Chioma's cooking show is just a farce. She tweeted: "Where is Chioma's cooking show? There is no
N45 M Porsche car. It was a PR stunt for the single "Assurance" release"